Hi there,
Following the release of a new monthly Newsletter yesterday to those users having subscribed, let's explain and expand here its contents, by reviewing the status of the various projects already endeavoured:
Nearly completed
1/72 scale (20mm) Requeté Militia:
Not exactly released, but nearly. This new set of Spansih Civil War figures is already in foundry, and we foresee to have them available in two weeks' time, maybe three --hardly longer. Meanwhile, we have set them as
available for pre-order
; if interested, please
follow this link
to pre-order yours.
At an advanced stage
1/100 scale IGC Sadurní tank:
Well, there is little progress here, for I'm still awaiting decals to be printed. Once these finally come into my hands, it will be the turn for printing boxes, and the models will be ready for release. True that I could have had boxes in printshop alongside to decals, because their design was finished long ago; but honestly I'm not in any hurry for doing so --15mm SCW sales have slowed down a lot, so making the 1/100 scale range to unavoidably loss priority at such an extent that, after this model, I'll probably decide not to release anything else in this scale for a long time.
1/72 scale L3/33 Carro Veloce tankette:
This one is a real must in any Spanish Civil War range, so here you have Minairons' one! Here below you can watch a caption on the 3D printed prototype, now ready to be brought to moulds. Tracks, MGs and upper hatches will be metal, while hull will be resin.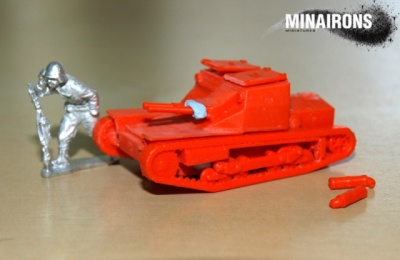 1/144 scale Breguet XIX light bomber:
This new aircraft has been prototyped to completion too, and is now awaiting to be brought to moulds. As a matter of fact, I must still decide what to put in the pipeline first, whether the tankette above or this nice biplane...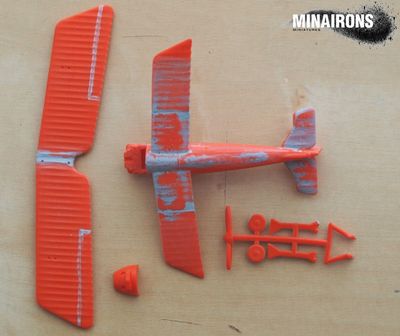 1/72 scale Wine Cellar:
The designer has been quite busy lately, both due to domestic affairs and game shows, so I can't show you many new images. However, prototype of this superb piece of scenery is nearly complete now; according to what he told me last week, a first sample will be cast soon; then he'll build and paint it for sharing purposes. Stay tuned, then!
On designers' workbenches
1/600 scale Spanish galleon:
Once the designing issues faced at start have been sorted out, work on this first model of a new range of sailing ships is taking increased speed at last. Following users feedback and after some talk with the designer, we've agreed that the ultimate model will have 3 masts instead of 4 (so dispensing with bonaventure mast, that many users considered too primitive for a XVII century ship), two alternative bows and two sterns too --so as to multiply users' chances to customize the model.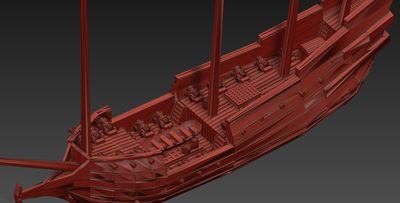 1/72 scale Landesa improvised tank:
This bizarre
tracked tiznao
was scratch built in limited numbers on Landesa tractor chassis, during 1934 Asturias revolt, and a couple of so survived up to seeing some action in the first stages of Civil War. It will be quite easy to produce, because of its simplicity as well as for sharing running gear with Landesa tractor and Trubia-Naval tank.
Well, little else so far:
1) a
15mm
version of
Trubia-Naval tank
was recently prototyped too, but as said above I've put in on halt while deciding what to do with this range;
2) I haven't taken a decision yet on what
vintage racing car
to make after ERA, and
3) sculptor Xan and I have agreed that our next Spanish Civil War 20mm figure set will be devoted to the Republican
Assault Guard
.
Thanks for reading,
Lluís