Now that our
Spanish Galleon project
is closing to a hopefully happy end (whose results will be shown soon), it comes the time to start thinking of a 1:600 scale accessories range, that in my mind should unavoidably begin with an appropriate
set of 17th and 18th centuries Naval Flags
--so as to allow each one to further customize and decorate his/her ships --either those we're gradually going to release, or from other brands.
Consistently to the already existing collections of SCW 1:100, 1:72 and 1:56 flags, this new range will be printed as separate DIN A7 paper sheets, each one devoted to one particular ship type and nation. Each sheet will include one ensign, two alternative (or complementary) mast flags, one bow jack and one triangular or swallow-tailed pennant, following the general pattern shown below (using a fictional sample, BTW):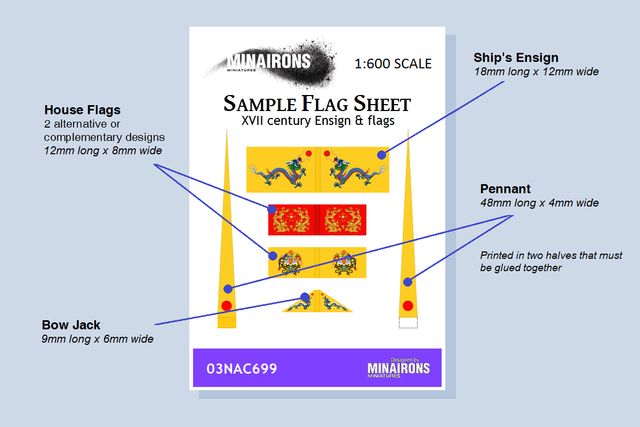 According to Minairons commitment toward Iberian Peninsula nations History, we have already designed and printed some first sheets, but beyond such commitment, we believe that our highest priority must be given to users' own will, so I've decided to place a
complete poll
consisting of two related questions, which I invite you to answer.
Please read the complete piece of news
on Minairons blog
.
Cheers
Lluís
www.minairons.eu
minairons-news.blogspot.com
www.facebook.com/MinaironsMiniatures