Just as
promised last month
, we've just made available three new sets of
1:100
scale flags for SCW 15mm gaming. This time it's been the turn for the Republican militia
Fifth Regiment
,
Nationalist Cavalry
and
Basque Army
.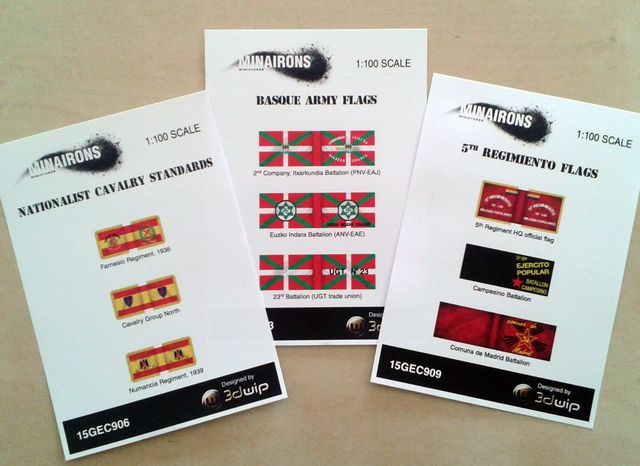 New sets come, as usual, under form of small DIN A7 paper sheets with three historical flag designs each, slightly textured so as to simulate fabric waving under wind effect. Thanks to these new additions, our range of flags for 15mm gaming now comprises
11 different sets
--and will keep growing all 2017 long, for the most immediate releases we've forecast in
1:100
scale are
Falange militia
,
Catalan Army
and
Moroccan Regulares
. Expectedly, we'll be able to release these before Christmas.
Regarding our
equivalent range of 1:72 scale flags
there will be further news soon, too --in one or two weeks' time as late. Hopefully, even there might be good news for 28mm gamers too.
Cheers,
Lluís
www.minairons.eu
minairons-news.blogspot.com
www.facebook.com/MinaironsMiniatures