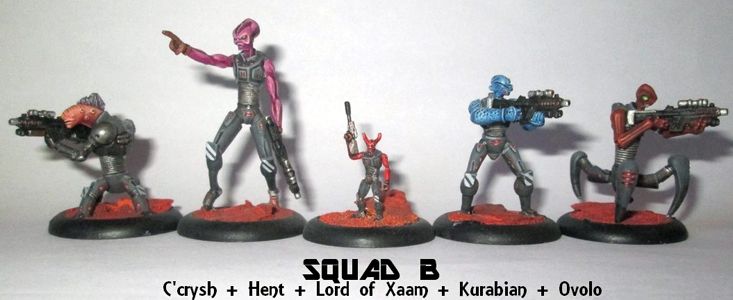 Multi-species alien squad in 28mm scale, alien troopers sculpted by Pierre-Francois Jacquet (PF). The weapons have been digitally sculpted by John Bear Ross (JBR).
The majority of the aliens will have two different heads, with most of them having separate arms and a couple have separate legs too
You may have seen them as a crowd funding project on Indiegogo or even have backed that project, our aim is to continue this project by introducing a voucher scheme which would enable you to get the original deals but without the crowd funding risk as these will be produced regardless of the voucher scheme.
The voucher scheme will run from today till the end of April allowing us to get the moulds ready for release plus all voucher holders will get their figures before general release. While keeping the low level vouchers as near to the original pledges as possible we have decided that the higher level vouchers will work as a discount for figures from across our ranges allowing you to get a wide variety of figures for your voucher.
With the higher level vouchers I will send you an order form out once the scheme has finished which you can fill in and send back to us with your orders
Hopefully if this scheme does well we can get PF to do some new additions to the alien shock troopers in the near future.
If you need any more info please feel free to email me.
Mark
http://www.cpmodelsminiatures.co.uk