Decemeber, 1943, South of Leningrad
1943 is coming to a close, the siege of Leningrad will shortly be coming to an end. An important railway line that leads to the city must be held at all cost from the approaching Russian horde in the midst of a wintry hell...
(This game is preferbly run with Disposable Heros using all supplements, and can be used with multiple scales)
All upgrades !SHOULD! be used for this game. Others that aren't mentioned !CAN! be used if the players agree to it.
Russian Forces:
Vehicles:
2 x T34/76
1x KV-1
1x BA-64
Late War Russian Rifle Platoon
-Command Team with Political Officer
-Three Squads
--upgrade 1 fig in each squad to a PPsh
-1 ATR Team
Company Support
-HMG Team
-Light Mortar Team
German Forces
Vehicles:
1 x PzKmpf V D Panther
Late War Waffen SS Grenadier Platoon
Command Section with Sdkfz 251/10 Command Transport
-1 fig upgraded to a MP-40
-Add panzerfausts
Two Squads
- 1 fig in each squad upgraded to an MP40
- Rifle grenades
- AT Rifle grenades
-1 fig w/Panzerfaust 100
Company Support
-Panzershrek Team
-HMG Team
Regimental Support
-5cm Pak 38
-7.5 Ie IG 18
German Objectives:
1. Hold the railway line from the Russians
Russian Objectives:
1. Take the railway lines to prevent supplies from being taken to Leningrad.(Must be in 1 of the 3 Victory Locations)
Terrain:
Preferbly winter terrain
The board should look like the below picture for this scenario.
THIS IS NOT TO SCALE!!!
KEY
Black x- tank obstactcle
green circle- individual tree
black rectangles- buildings
squiggly line-barbed wire (impassable by infantry)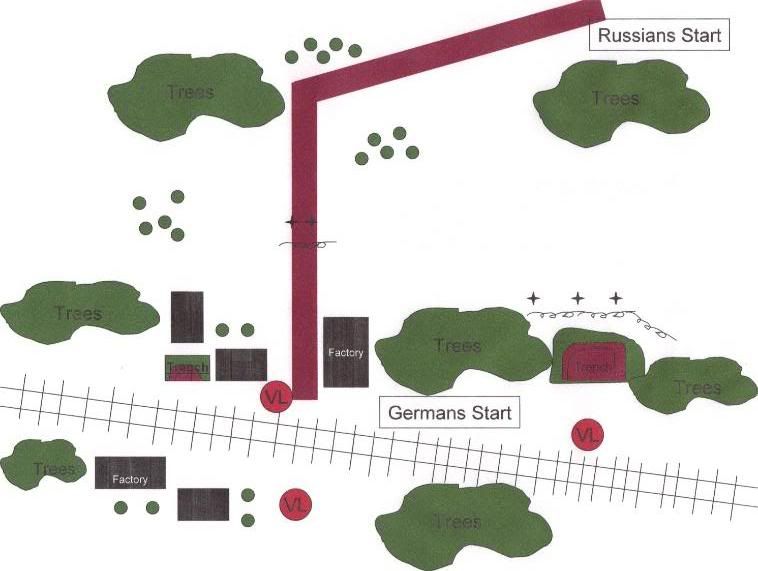 The Germans are outgunned, and outnumbered making them have to use all the available resource (terrain, etc) to stop the Russian horde. Hint...bring the tanks by the houses and use those panzerfausts and shreks!
This is my first time ever writing a scenario. I used the book
Ostfront
for this scenario. This isn't historically accurate, but based on the defense outside of Leningrad during the winter months of 1943-44. Hope you enjoy it.
regards,
Brad